Professor Ian Maddocks AM, Senior Australian of the Year 2013, for oncologynews.com.au – 
After receiving the award Senior Australian of the Year for 2013, I was honoured by an invitation to give the Presidential Lecture at the annual COSA meeting in Adelaide. Because the theme of the meeting was Geriatric Oncology, I sought to bring to the talk a consideration of the interactions of the three disciplines: Clinical Oncology, Geriatrics and Palliative Care. None of the three had been recognised as a medical specialty at the time of my graduation nearly 60 years ago, but, since the 1980s, each has been assuming increasing importance as the numbers of elderly and very elderly cohorts mount in Australian society.  An increasing incidence both of cancer, and of the multiple chronic diseases of other kinds that assail the aged, requires new resources for their management, as does preparation for the inevitability of death and dying.
"Our community appreciation of cancer, age and death has been

strongly threaded through with apprehension and denial."
Professional attention in each area needs to be attentive to those common fears, and offer patients and families an honest reflection of reality along with a combination of effective evidence-based management and compassionate attention to individual need. A palliative care consultation inevitably carries an inherent message different from one with an oncologist, but it is appropriate that they occur in concert. If geriatric review and palliative care have presence within cancer centres (or are even embedded there), elderly patients will be best served in working through the benefits and risks of treatments and the threat of deterioration.
The recent call for the preparation of Advance Care Plans for every person with a serious illness emphasizes the need to respect patient choice. Writing an Advance Directive should be a trigger for a discussion within the family that clarifies an individual's values, wishes and expectations for further care. It will indicate, in terms as specific as the situation allows, preferences for site of care, and levels of intervention, which (when advanced cancer is responding poorly to therapy) may address cessation of active treatment and a focus on palliation).
Patient-centred care is an approach to clinical activity that is now widely promoted within medicine. Surely good medicine has always practised it; it has certainly been central to the delivery of palliative care since care of the dying began to be formalised.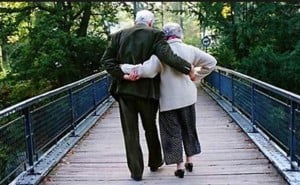 More than in most areas of medical professional exchange, palliative care calls for a mix of science and intuition. The Romanian conductor Celibidache said of music, "What is written in the score is everything, except what is important".  So, with care of the dying, what is written in the texts about symptom management and emotional support is everything except what is important, because it is HOW you do it that makes the greatest difference to patient and family resilience in the face of suffering and impending loss.
"It is not too extreme to use the word  'love' to acknowledge
what matters most in crisis family situations like imminent dying."
In all three disciplines our clinical management of anxious individuals needs to affirm, along with the results of well-conducted trials, a respect for relationship and evidence that love has attended the care being offered.
Australia cannot claim to be ahead of other developed nations in its care of the elderly. Our aged care facilities work with only half the staff/patient ratios that are in place in the United Kingdom. To meet the needs of the burgeoning population of frail and dependent elderly is going to require increased home care resources and more residential aged care facility (RACF) places,  with greater numbers of trained and motivated staff to support both areas.
Where will additional assistance for our elderly come from? As the 'baby boomers' move into the ages of retirement, they must expect to pay more for their own future care, but they might also make a personal contribution to the available health-care work force. There is opportunity for the fit elderly to volunteer in support of aged care, whether through attachment to RACF or through joining agencies that support home care (of which Meals on Wheels is an example but there are many others).  That involvement would offer, through regular stimulus and practical measures of assistance, an important contribution to the continuing life experience of frail and dependent seniors. In addition, it would offer, to those who volunteer, a preparation for facing their own old age.  I have called this opportunity for the newly-retired, 'Engage with Age', and I promote it as a promising contribution to community health.
Recent studies of RACFs have highlighted the continued frequency of unnecessary transfers of residents to acute hospitals, and suggested that the supervision of care by general practitioners is not infrequently inadequate.  These realities call for a change in the way we structure and support aged care institutions. In the Netherlands, aged care facilities are supervised by qualified Elderly Care Physicians.  How could we match that?
"Each and every one of our large aged care institutions
could have, within its walls, a thriving general practice."
It will be led by a family practitioner trained in geriatric care (which may need the establishment of a new award) and include at least some elements of a multi-disciplinary team capable of meeting the full range of mobility, nutritional, emotional, behavioural, cognitive and spiritual needs of residents, while providing support also for family members.
For each resident, on admission, the RACF's physician will review the new resident's history in consultation with family members; will undertake a comprehensive assessment and screening process; will review and often be able to reduce the list of medications being taken;  and will ensure that an Advanced Care Plan is in place and is appropriate to patient and family expectations. This process will anticipate and defend residents against future risks such as falls, osteoporosis, depression, loneliness, cognitive decay and unnecessary transfer to an acute hospital.
Within the community that surrounds a RACF there are many aged persons with varying levels of independence, comfort and support. Some will have special needs that will benefit from contact with the RACF team, and the inclusion of Community Nurse Practitioners will be invaluable. They can undertake home visits to support families struggling with difficulties of dementia, major physical discomfort or disability. They can also link into the responsibility of the RACF the palliative care supervision of those with terminal cancer. RACFs have always had to include in their work the care of dying elderly, but it has been clear that, commonly, neither the training of staff nor the resources required for the full implementation of palliative care have been adequate. The paucity of established hospice beds will require that, increasingly, RACFs are fully prepared to undertake palliative care, and with the resources suggested above, the RACF will be an appropriate hospice placement should home care of a patient become too onerous.
Each of our three specialities – Clinical Oncology, Geriatrics and Palliative Care – has something to gain from closer liaison and mutual support in the care they offer elderly persons. Every individual interested in aged care should urgently advocate a strengthening of what is offered to needy elderly in hospital, home and RACF settings. The establishment of family practices within RACFs would be a good start.
Ian Maddocks, AM
MD, FRACP,FAFPHM, FAChPM, DTM&H
Oncologynews.com.au, part of the Oncology Network Australia, thanks Professor Maddocks for taking the time to share his thoughts with us.
Emeritus Professor Ian Maddocks is an eminent palliative care specialist and a passionate advocate for world peace. A specialist physician in the Australian Administration of Papua New Guinea for 14 years, he became Foundation Dean of the Faculty of Medicine at the University of Papua New Guinea in 1971. Since 1982 he has worked with medical groups seeking to eliminate nuclear weapons. Ian was President of the Medical Association for Prevention of War when it received an Australian Peace Medal, and Vice-President of International Physicians for Prevention of Nuclear War when it received the Nobel Prize for Peace in 1985.  Since 1980 he has advocated improved care for the dying, and was first Chair of Palliative Care at Flinders University, first President of the Australian Association for Hospice and Palliative Care and first President of the Australian and New Zealand Society for Palliative Medicine. Recipient of the inaugural Bethlehem Griffiths Medal for research in palliative care, Ian is recognised internationally for his work in palliative care, tropical and preventative medicine. Now Emeritus Professor at Flinders University, he continues daily care for the terminally ill.